by Jon Crowley on 05/01/12 at 9:50 am
2012 Can-Am Commander 1000 Limited
By Joey DiGiovanni, UTVUnderground.com
When Can-Am / BRP asked us if we were interested in taking on the review of their new 2012 Commander 1000 Limited we jumped at the chance. With so many of our other projects and reviews we have to embark on the task of building the unit to our liking. Of course we leave many units stock and of course when doing the builds we do have a lot of fun, but sometimes its nice to be able to just crack open a new unit and just drive it and love it for what it is.
In many cases the term "limited" means special color, or wheel pattern, power package, or graphics kit. In the case of the Commander 1000 Limited "limited" means the worlds first luxury touring UTV! The Commander 1000 Limited is the PERFECT unit for the user who does not want to spend time or money in addition to trick out their UTV. When you buy one of these units (which MSRP's at around $19,000.00) you are getting a unit that is fully equipped with all the bells and whistles one could ever want along with a few that you may have never thought of. Many of us who live and breath this hobby know that no matter what you buy you are going to add a few things so what Can-Am did is put themselves into our addictive shoes and figure out what the most popular accessories are and then just put those items into a model that comes dealer direct with them already installed.
Package Highlights
» Rotax 1000 EFI V-Twin engine with Intelligent Throttle Control (iTC)
» On-The-Fly Adjustable Front and rear Air Control Suspension (ACS) with Fox Racing Shox
» Two-piece plastic roof
» Bolt-On Half windshield
» Dual-level cargo box with cargo box rails
» Rear net
» Mudguards
» New 14-inch (35.6cm) cast-aluminum wheels
» Removable Limited seats
» Custom steering wheel
» Two premium painted-plastic color options (Pure Magnesium and Orbital Blue)
» Analog / digital gauge
» Garmin Color / Touchscreen in-dash GPS w/ 5MP Camera
» Sound system with four speakers
» 4,000-pound (1,814 kg) winch kit
» 26-inch (66cm) Maxxis Bighorn 2.0 tires
» Steel bumpers and more
» On-Board Air Compressor with 4ft Coil Hose
So I won't go too much further into the stuff we have already discussed in our initial test drive and product release thread, instead I will get into my initial feedback having been able to play with the Commander Limited a few times now.
Read our New Product Release Thread on the 2012 Can-Am Commander Lineup Here: NEW 2012 Can-Am Commander Lineup **UTVUnderground Exclusive**
First impressions: WOW, NICE! Fit and finish on the Can-Am is definitely the best of any UTV. The cockpit appears very automotive! I love the styling and comfort when sitting in the Commander. The steering wheel is very sport-like and comfortable to grip and the gauge cluster / pod is also sporty and high end feeling in comparison to the rest of the industry. As is the case with all factory UTV's, I HATE the 3 point harnesses! But, I don't mind upgrading the harnesses and in my opinion you should upgrade to a 4/5 point just for safety. There is a catch with making this upgrade with the Commander however. Located when the seatbelt latches is a sensor that ensures you have the seat belt latched otherwise you will be limited by the computer to 12mph. When making the switch from stock 3 point to aftermarket 4/5 points you then have to by-pass this sensor. In all this is a good feature that Can-Am has employed.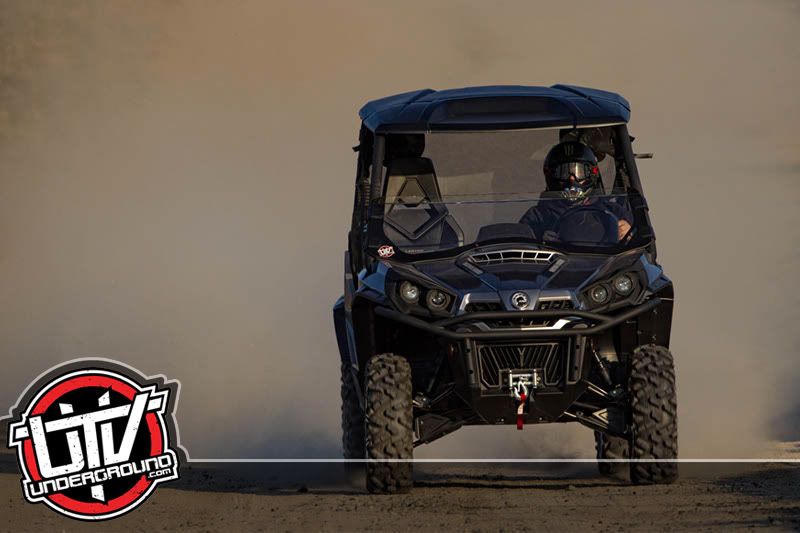 Some of the other first impressions I have are as follows. I love that there is a USB output but for some reason I could not get the radio to play through my iPhone? I could however hook it up through the auxiliary in/output on my phone and on the Commander. The stereo is easy to use, and the sound is pretty good as well. When driving at higher speeds you have to have it cranked pretty high to hear it but thats ok with me! At cruising speeds you can listen at a moderate speed. The Garmin GPS is VERY easy to use and works really well. I love that I can pull it out for security purposes or to take photos with its 5MP camera. The half windshield works well to keep extra wind off your face and body. In cold environments its a must have. However, be careful how you maintain it because that plastic can and will scratch up. In dusty situations it can become an annoyance in your site line, especially when traveling at higher speeds. Good thing is you can remove it pretty easily with minimal tools.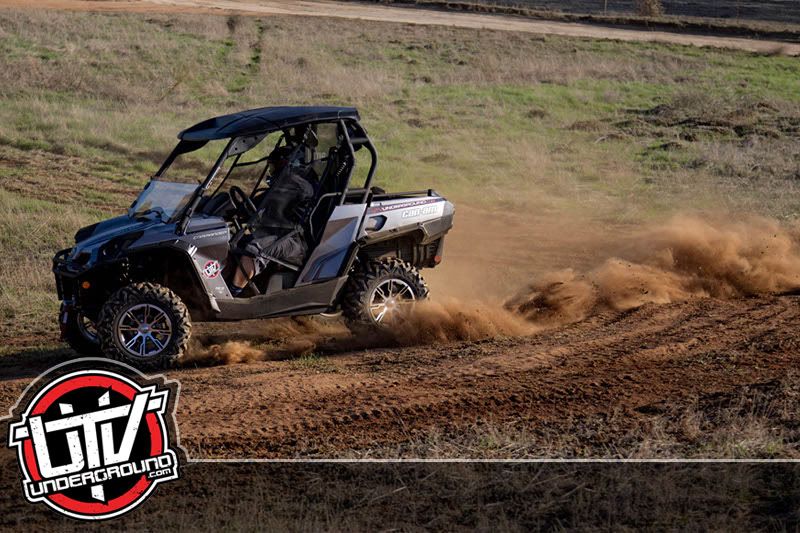 Lets talk about performance and handling. No one can deny the power of the Rotax 1000cc V-Twin power plant. It's definitely a power house and feels like its going to just keep pulling well beyond the 75mph (+/-) limiter. In 2wd the Commander can feel very "squirly". It feels as if the UTV is lifting off the ground and the tires are barely holding onto traction. Don't get me wrong, I love the feeling of raw horse-power, but I could see a lesser experienced driver getting in trouble with all this power. When in 4wd the sensation is greatly reduced and you feel much more in control even at the higher speeds. In the sand dunes there is no doubt that you want to run in 4wd. In 2wd it just feels a little harder to control, but 4wd is a lot of fun! The low gear has a ton of torque and is enough to pull you up some of the steepest of hills and if you had to tow someone you could do it with ease. In the end, it is not hard to slide turns as you can see in some of our pics here! We made easy work of the trails and roads around our property with the Commander 1000 Limited. The throttle is very snappy, and in some cases jerky. The Commander does not have the smoothest peddle, it almost feels like its all or nothing. As you spend more time in the vehicle, as is the case with most, you learn to control it better. Turning radius is great, and snapping the car around in a tight location is not very hard to do!
When it comes to suspension, the Commander 1000 Limited is a winner! I really enjoy the Fox (ACS) Air Shock System on the Limited. Its flexibility is perfect for the rider who likes to play in a variety of different environments. I wouldn't go as far as saying its better than the gas charged Fox Shox set up on the Commander 1000-X but its a close second! In some ways I could see many saying its better because of its flexibility to stiffen or soften the ride from inside the UTV. I find myself changing the setting all the time. If I am cruising in a choppy type of terrain at slower speeds then I take it down to a lower setting. When running at higher speeds I bump it up. Best part is, this adjusting is all done by pushing a dash mounted switch located on the dash panel! This is by far my favorite feature on the Limited. Can-Am went a step further and put an external air fitting located behind the drivers seat that allows you to attach an included 4-5ft coil hose to air up tires when out on the trail! I have used this a couple of times when going from the sand back to the ranch. When done using the hose you just put it away inside the large Commander glove box.
When it comes to storage its impossible to find a 2 seat UTV with more. The Commander has a large glove box, good size cargo bed, and a lower storage box below the bed that is secured by a heavy duty latch and hinged door. There is no problem hauling our camera equipment along with snacks and a cooler! The Bed rails give you a solid location to tie down too and unlike other UTV bed rails will not begin to bend or collapse when pulling tight on them.
I have yet to use the 4000lb winch, but having used the winch on our other UTV's we know how handy these can be. I love the fact that this unit has a winch and I love that it has a nice clean dash mounted switch control as well as a remote switch for operation when outside of the UTV.
I look forward to using the UTV more and more! It is definitely the Cadillac of all factory model UTV's! Once thing I learned last week is that you can Long Travel one of these and still retain the factory Fox ACS suspension system. Sponsors Magnum Offroad put one of their kits on a Limited last week and it looked fantastic!
More to come……
Review By: Joey DiGiovanni // UTVUnderground.com
Photos By: Vincent Knakal // Mad Media (Mad Media) // UTVUnderground.com
Overall, the Commander is one of the best looking UTV's on the market

You can see the lower trunk box providing for plenty of rear end storage

The aggressive front end of the Commander definitely looks amazing. The projection style headlights work the best of any UTV on the market and the front end mounted 4000LB winch is definitely a worthwhile accessory!

Easily the coolest gauge cluster on the market. You can personalize it to say your name, it notify's you when service is ready, and you can use its manual controls to adjust your ACS suspension system from front to rear! Not to mention it tells you how much your using your UTV and tells you how fast your going!

Another industry leading feature, the Can-Am Commander Limited's steering wheel is sporty, comfortable, and screams quality!

Some would call the push-button start feature a bit excessive but it gives the UTV the feeling of being a high-end luxury vehicle. There is something cool about pushing that button to fire off the power V-Twin power plant

The Garmin touch-screen / color GPS is easy to use and easy to see. Reviews online speak highly of the unit which we plan to use much more on our adventure rides. The 5mp camera is also a plus incase you forget your regular camera at home!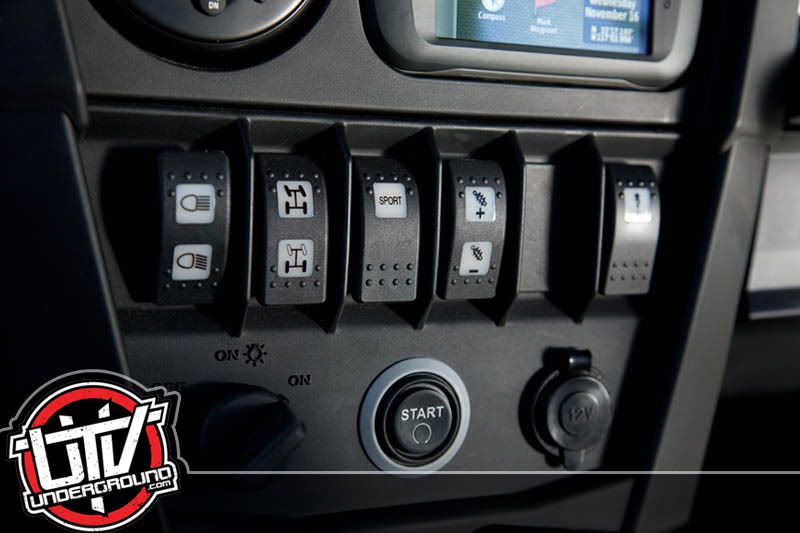 The switch panel not only looks cool but it works really well. The switches include Hi/Low Beams, 2wd/4wd, ACS +/- Suspension Control, Winch Control, Sport Mode Switch, and a blank panel which could be used to control an aftermarket lighting set up or…..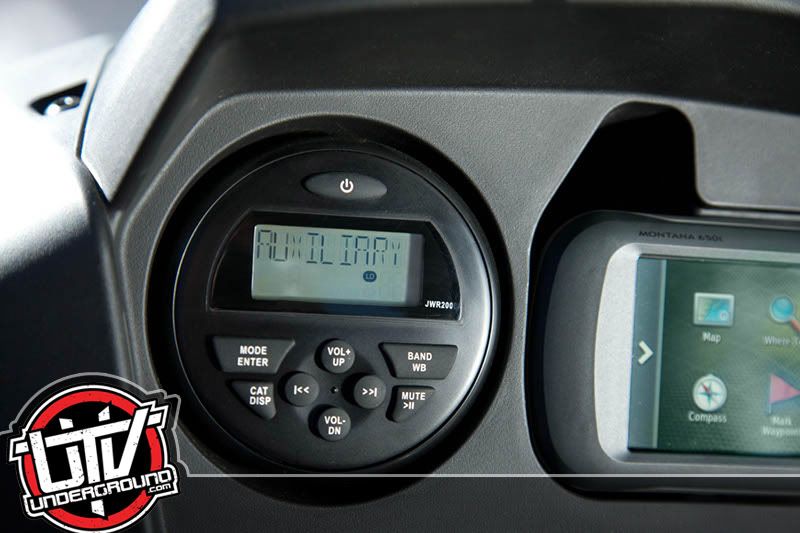 The factory stereo system provides for decent sound and easy to use functionality. The buttons can be a little hard to push when controlling volume or trying to change stations on the AM/FM stereo setting. We like that we can hook up our iPods to listen to MP3's while cruising!

Hard to top that center console dash! Stylish, automotive, and clean!

The shifter is pretty standard but works well and despite taking some hard hits has yet to pop out of gear!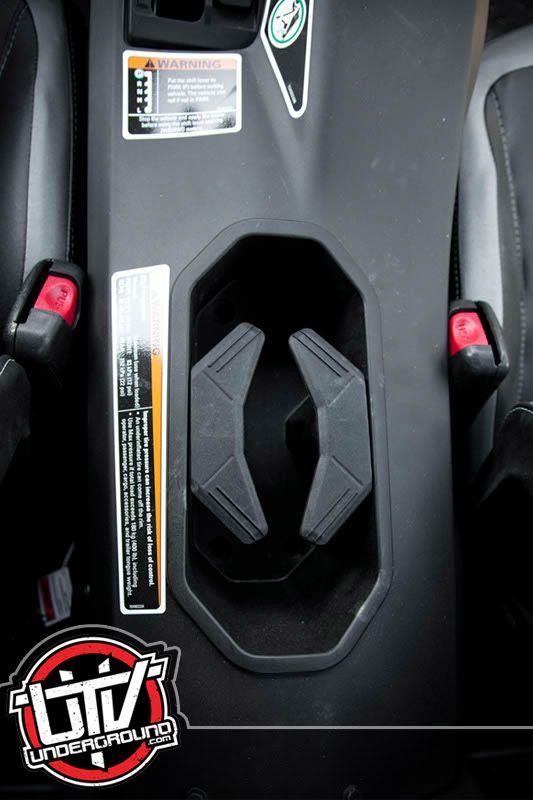 The cup holders located between the driver and passenger on the center console work well but don't expect your water to stay cold for very long as its located directly above the engine! But, they do work well to keep your drinks in place even while traversing some agressive terrain.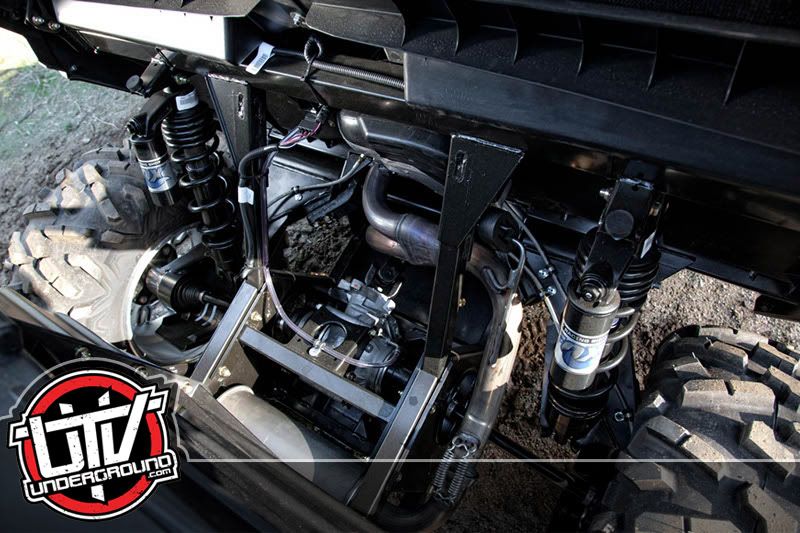 The bed still dumps, and while I would not consider this your typical working UTV if you need to haul and dump this UTV will do it! You can also easily access the rear suspension.

Its hard to beat the Fox Shox name when it comes to shocks! The ACS system works really well and the Fox shocks are the best money can buy!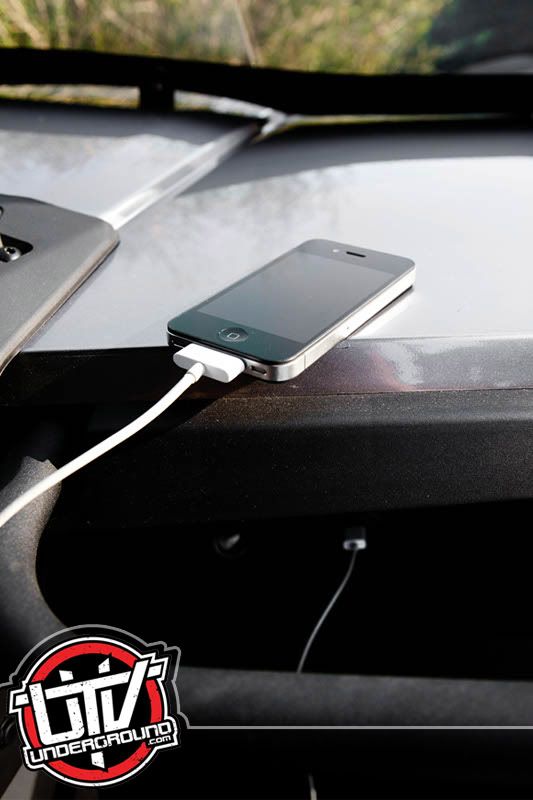 A very nice feature when trying to stay connected while on the trail! Charge your accessories or plug in your phone while playing music on the factory stereo system.

We love the on board air system for airing up tires. We can see this coming in handy a lot during our use of this unit.